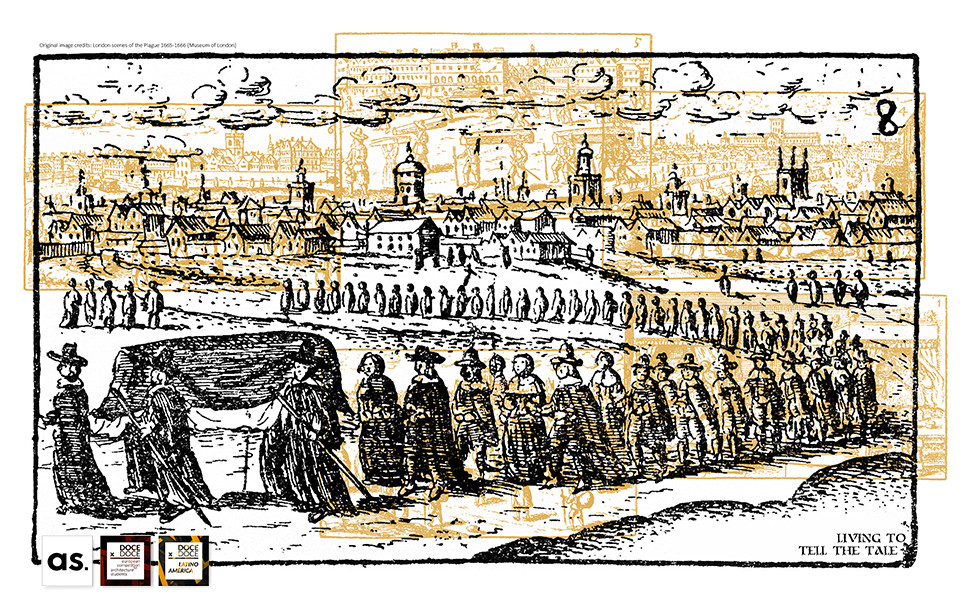 WORLD 2020
LIVING TO TELL THE TALE COMPETITION
Due to COVID-19 circumstances we coudn't organize the 4th edition of DOCEXDOCE Europe. In response, we joined forces with our friends of ARCHsharing to create a new design competition.
COMPETITION RULES 2020 | COMPETITION TOPIC 2020 
DOCEXDOCE and ARCHsharing have collaboratively organized this special design contest edition known as Living to tell the tale. During these unsettling times of Coronavirus we have created a novel contest with a unique format that aims to showcase the work of students and young professionals in the fields architecture and design.
THE COMPETITION
Wars, plagues, and pandemics are three of the main historical factors that have marked the course of humanity, altering everything from how we inhabit territory to our perception of death. These disturbing events naturally run in cycles and therefore, in theory, are predictable. They have strongly marked the collective psyche of all societies that have suffered and will not cease in doing so. Without a doubt, these are traumatic incidents that have often been reflected and represented in the art of each period through symbolism and iconography.
The story of pandemics as told by art history helps us to understand the effects they have had on human activity. The Black Death, leprosy, tuberculosis and even more recent infections such as AIDS, have reoccurring trends and similar outcomes while existing exclusively in their specific historical context. Mass death throughout history has physically shaped and transformed elements of the modern city, it has changed appearances and improved basic facilities such as cemeteries and hospitals. Due to the suffering, we have developed medical techniques and strategies for curing, protecting, identifying and controlling populations. We have observed how different cultures, groups, and societies emotionally react with different scales of anxiety depending on religious beliefs, culture, wealth, security, leadership, etc.
Regarding the current global impact of Coronavirus, we are at a crucial point where different scenarios are playing out simultaneously across the world. On the one hand, China, the first country affected by this pandemic, is beginning to return to a gradual state of "normality", while European countries such as Spain and Italy have managed to pass the "peak of the curve" and are facing a phase of sustained transmission. Finally, India, the USA, and other Latin American countries are suffering from initial phases of the pandemic with exponential growth in the number of people infected.